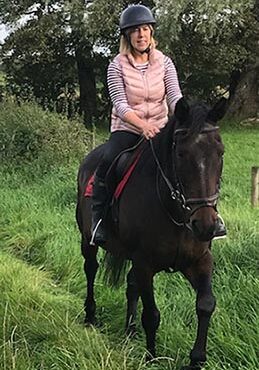 Murphy (Stable Name)
This 16h Irish Sport Horse is the stalwart in the Ballylagan crew and at the age of 28, Murphy takes everything in his stride. He has starred in Re-enactments with live cannons, on cultural parades and in TV scenes. If you fall asleep on board, you can be sure to be taken home on this steed! Murphy in his day hunted and now has earned his place, enjoying all year round organic grazing and pampering in his retiring years. Appropriate for the Novice to Advanced rider.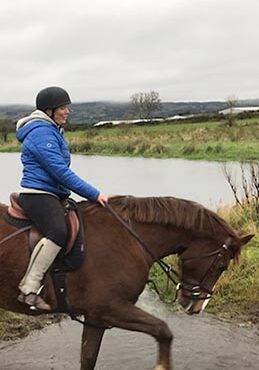 Miley (Stable Name)
Je T'aime Millennium (Passport Name)
We are honoured to own this very special 17h and, still growing mare. Only 8yrs and owned since the age of 4, this warm blood has the brain of a 10yr old. Still young, and jumping SJI up to 1.10m successfully, she has been known to jump out of the arena, 1.50m. She is the trail blazer and Alpha female of the herd just because of her sheer height and conformation. Miley has beautiful stable manners and is never phased on the road, but she is still learning every day, so requires the advanced rider.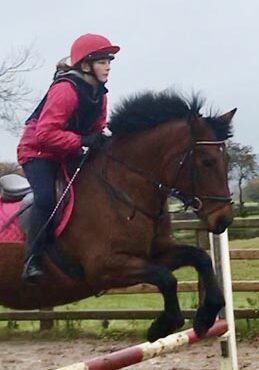 Gemini (Stable Name)
Holiday Candle Light (Green Passport Name)
A 14.2h, 1st Class Irish Connemara, aged 18yrs, she is at her peak, but we are reluctant to sell her on as she is the master of all. In her earlier years she was used as a brood mare and produced 3 Connemara foals with previous owners. She is the most successful on the yard, winning in cross country, Derby's, 80's SJI, Endurance Riding and obstacle courses! She has always aimed to please and is always placed in the ribbons. Her most recent 1st was in Newry at the 2018 Kernan's Equestrian Summer SJI League in the 80's. She adapts to her rider's ability and excels with those who are forward going. Her outline tells you she likes a blade of grass at every opportunity. After serving our family and friends well at competition the last 6yrs, she has a soft spot for humans but would rather be left alone in a field of horses!! Appropriate for the Beginner to Advanced Rider.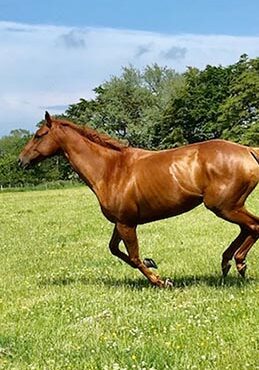 Lady (Stable Name)
Lady (Stable Name)
The latest recruit to Ballylagan, and confirmation that trail rides are the way forward. Lady is a 12yr old, 15.2h, ex-flat bred race horse, which is rare in these parts of Ireland. This thoroughbred chestnut mare has the sweetest of natures to work around and on board; all you have to do is sit. Don't worry she won't take off, she is Lady by name and a Lady by nature.
We have brought this mare to a life she now deserves and every day she shows us that she is grateful. Appropriate for the Novice to Advanced Rider.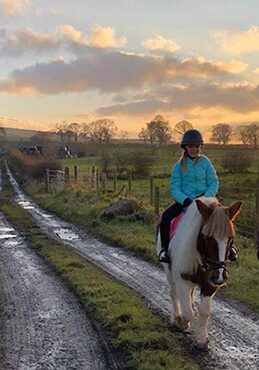 DOLLY (Stable Name)
Truly the cutest pony on Ballylagan. Standing at 11.2, age 8, Dolly is the perfect pony for our aspiring young riders on lead rein and enjoys nothing more than a big hug and a groom. Beautifully reared by Liz Graham of the Gobbins, Islandmagee, Dolly loves a good party and has been known to sneak into the house to eat all the cake~the Ballylagan Tea Room better watch out!!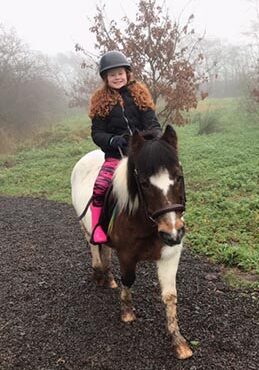 ROCCO (Stable Name)
The smallest pony of the Ballylagan Trail Ride herd, standing at 11 hands and now 18yrs old. He just loves his little riders and likes a jump too! Rocco is very easily handled and is a been there done that pony, so he gives all our new students bundles of confidence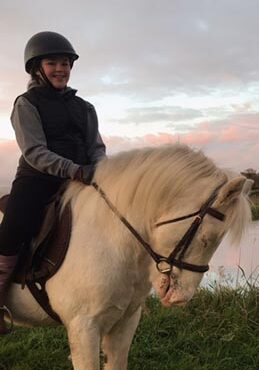 SAM MORELLI ( stable name)
Our beautiful unicorn pony standing at 12.2 hands and aged 11yrs old. He loves the water and also getting dirty! An athletic pony but very obedient, and always very popular with our young teenagers.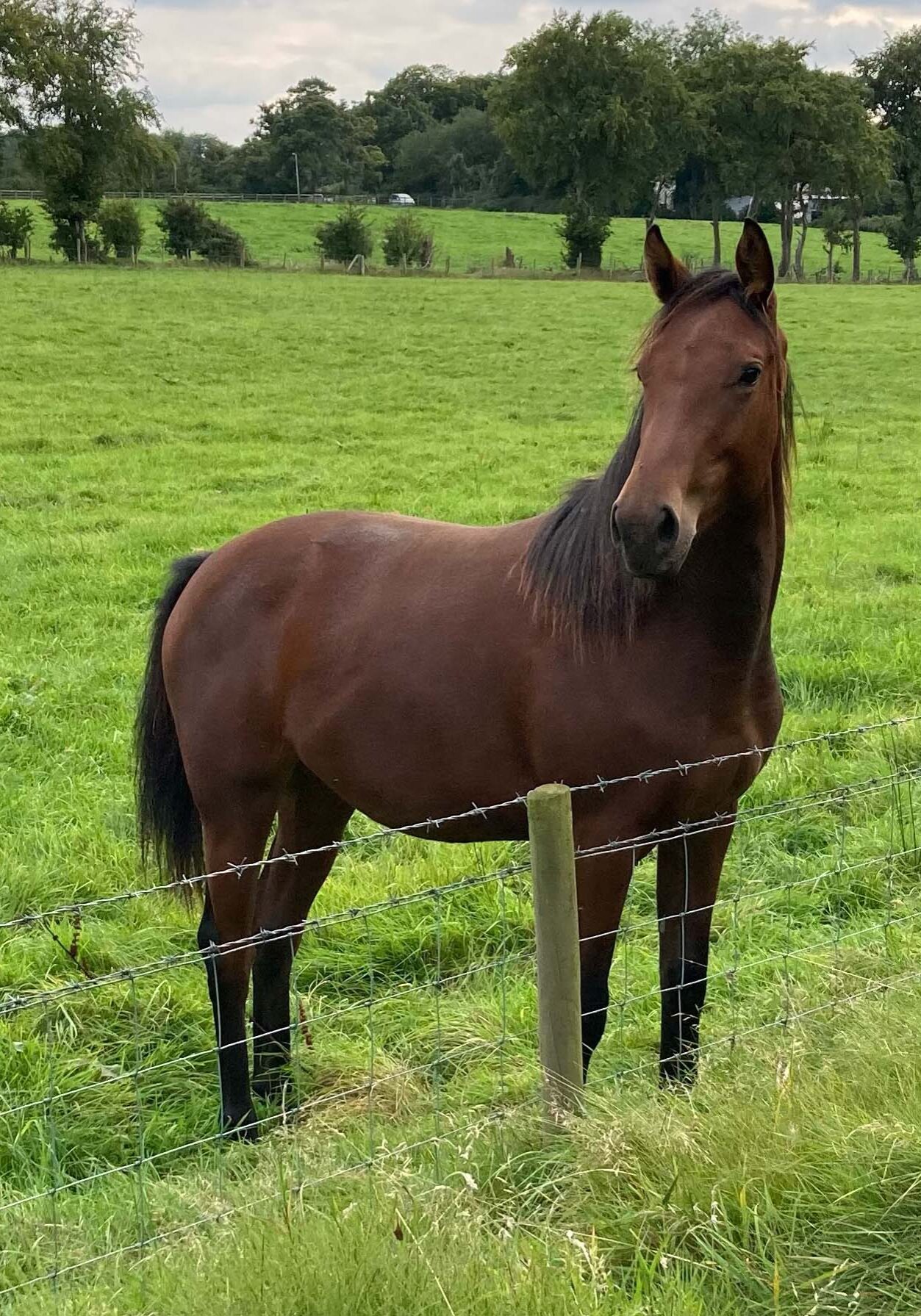 Bryantang Hazel (stable name)
Ballylagan Trail Ride's baby of the yard. A registered Irish Sport Horse yearling. Great blood lines going back to thoroughbred sires, Three Valleys, Diesis, and KWPN Bernard. A true bay, no white, and looks and style to boot, we can't wait to see what the future has in store for this girl.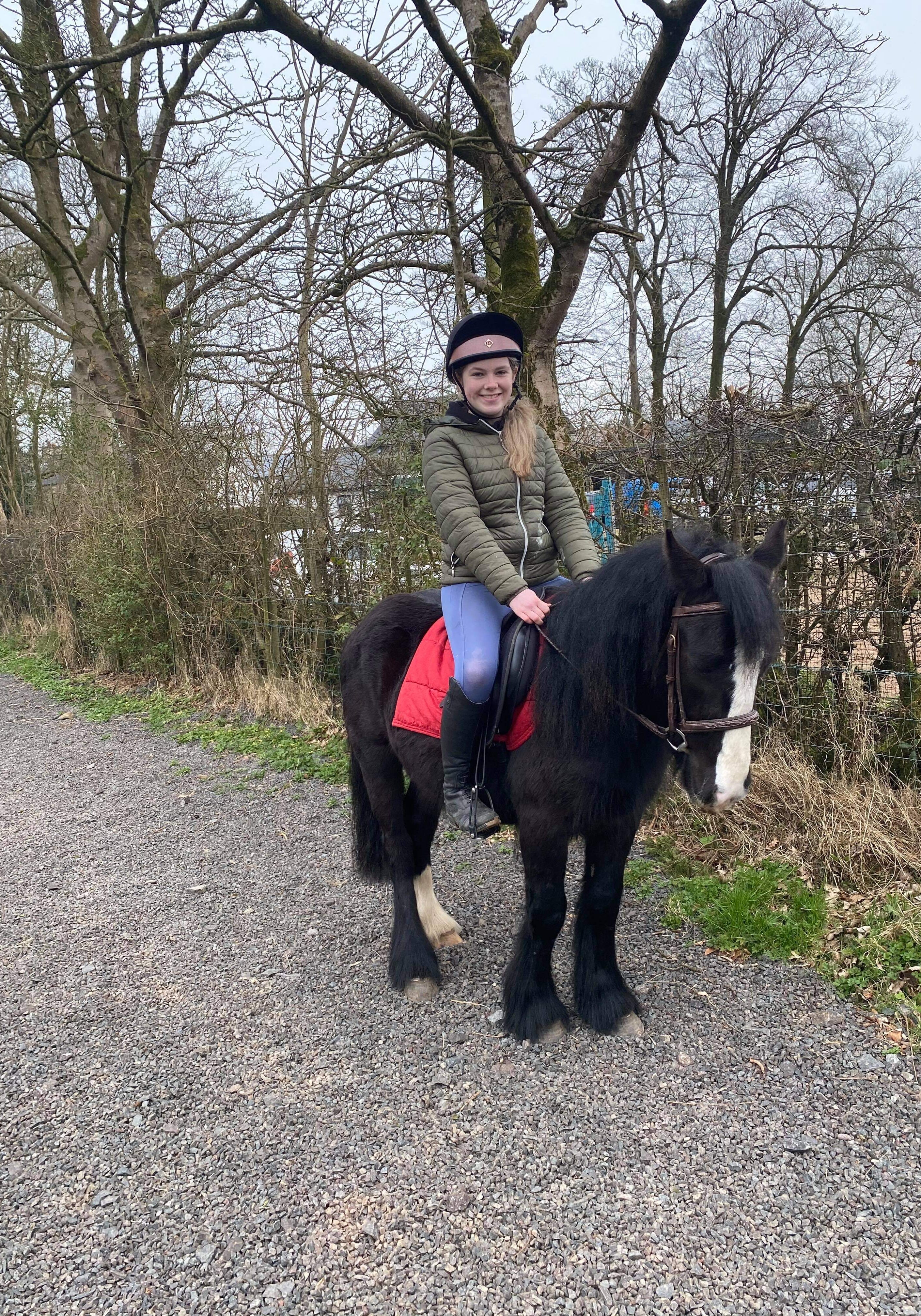 Magic ( stable name)
The newest addition to Ballylagan Trail Rides, 4yr old Irish Gypsy Cob, Danny Boy Magic. One of the fortunate foals from Equine Halfway House, Magic will have a forever home at Ballylagan Organic Farm.
This sweet pony has recently been saddled and is now ready for trails and lessons. He still has more height to grow and is going to turn into a tremendous asset to the herd.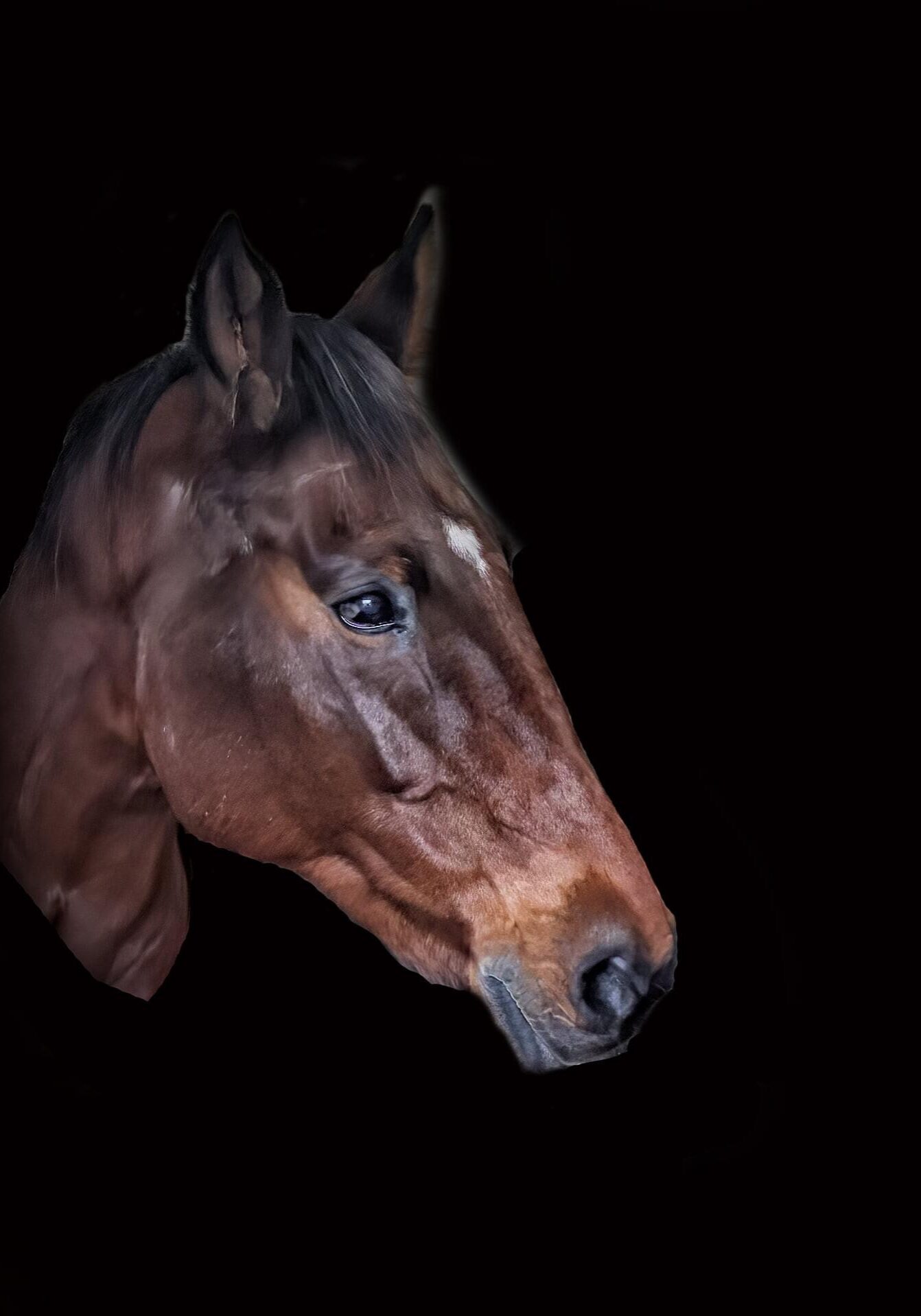 James Dean (stable name)
The name says it all, a flashy big lad with looks to boot, but a gentle giant. He stands at 16.3 hands and has earned his place in the herd and keeps all the geldings in order.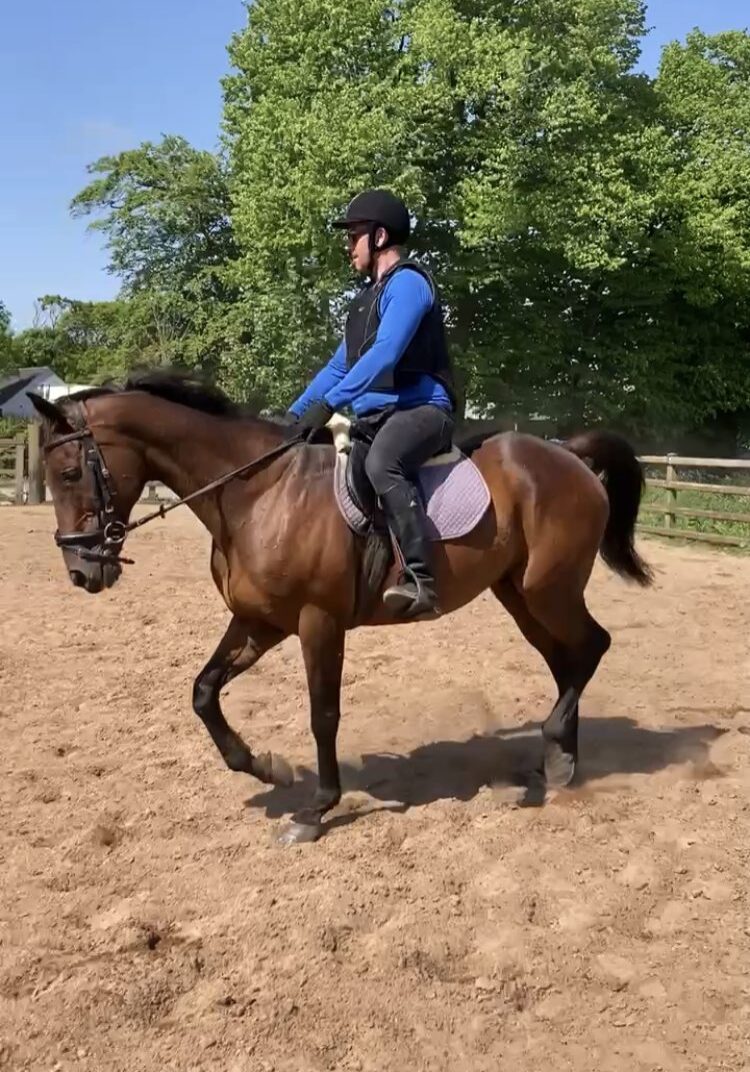 Substitute 4 love
As this gelding's name suggests, Mr S is just a loveable 16hand bay, been there done that horse with beautiful paces to enjoy.
At 18yrs old he still has the flashy looks and moves of a 10yr old and is a tremendous asset to the yard. For those who want a chilled out ride or want to progress their dressage and jumping.